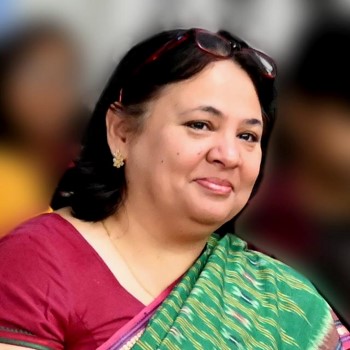 Sangeeta is the ninth and first woman Principal of the CCA , established in 1961 with the inception of Le Corbusier's city Chandigarh . She engages with students for raising awareness and capacity building with a variety of documentation and conservation led projects concerning 20c heritage . She is a trained Urban Designer from SPA New Delhi and a PhD from Panjab University on The Significance of Chandigarh as a heritage city of Modernity. Her work includes a residency perusing the archives of Pierre Jeanneret at CCA Montreal, Urban Design studios on the - socio cultural landscape of the urban Villages Chandigarh. She was team member of the Getty Keeping it Modern Initiative for preparing the CMP for the Gandhi Bhawan and the Le Corbusier Museum and Art Gallery. Her most recent engagement is the Interpretation of the exquisite flooring patterns by Edwin Lutyens for the Rashtrapati Bhavan, New Delhi published as a book in July 2022 with its second volume in progress.

Counsellor of National Scientific Committee on 20th century heritage- ICOMOS India from 2017-2020, she is now Expert Member of International Scientific Committee on 20th Century Heritage . In April 2015 she was invited as an international Jury Member and panelist for the Urban Edge Prize seminar, University of Wisconsin, Milwaukee, and thereafter co-curated the Urban Edge Exhibition on the Urban Villages within and around Chandigarh, exhibited at the Alliance Francaise, Chandigarh. An outcome of the exercise is the book 'Chandigarh Rethink' launched on January 5, 2018 at the CCA on the city's natural and manmade edges. She is also a juror to the Berkeley Student Essay Prize, University of Berkeley, USA, since 2012. She curated a student exhibition, generously supported by the Canadian Centre for Architecture, Montreal, Canada, 'Commemorating the legacy of Pierre Jeanneret -- the Foot Architect of Chandigarh', (on view) at the Chandigarh College of Architecture with a symposium to mark the 50th death anniversary of Pierre Jeanneret.

She recently completed a week long residency on Pierre Jeanneret at Canadian Centre for Architecture, Montreal, Canada engaging in revisiting the archival works of master architect within and outside Chandigarh from over 700 documents, images, maps and photographs at the archives in June 2019.

In continuation of her role as Nodal Officer, UNESCO World Heritage Nomination of the Capitol Complex, Chandigarh 2015, she has curated several heritage walks on the heritage ensembles of the city including the Panjab University, Jane Drew villages, among others.

Spearheading the recently launched Masters in Architecture program at Chandigarh College of Architecture (in 2018), Dr Mehta engages in studios, summer – winter schools, and co-curricular activities with equal passion of which the latest has been the RIBA Presidents Medal exhibition and Symposium hosted at CCA in September, 2019 , followed by launch of the capacity building institutional the Pierre Jeanneret Le Corbusier Forum in 2021.

Dr. Mehta is leading the team for the Preparation of State of Conservation Report for UNESCO World Heritage Site Capitol Complex, Chandigarh.